Scam and Fraud Protection in Dentistry
Wed, Feb 04, 2015 at 11:15AM
---
Like most businesses, dental offices are always on the lookout for ways to better their practice and improve their finances. While these self-improvements are great steps to make on the way to office optimization, it's important to be vigilant against potential problems from the outside: namely, frauds and scams that can cost your office.
The Association of Certified Fraud Examiners (ACFE) estimates that businesses with less than 100 employees lose around $155,000 a year due to fraud every year. You owe it to your office to help fight that ever happening to you. Here are some of the fraud-safe systems you can implement right now: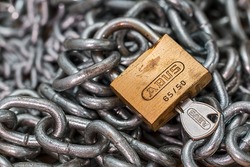 Online cloud: Having all of your documents and financial information in the cloud is beneficial in more ways than just ease of access and efficiency. Our cloud service can help you combat the loss of important documents or the skimming-over of potential red flags; having everything consolidated in one place will make it easier to spot problems in your accounts.
Train your employees: The best security systems only work when your whole team knows how to use them. Once you've found a trustworthy staff, instructing them on how to be safe and secure around the office shouldn't be a problem at all.
Use designated spaces for specific tasks: This tip depends largely on your office setup and what tools you're working with… but if you can help it, use a designated computer or area for specific tasks like accounting. This will prevent clutter from other tasks get in the way of key information and, as we mentioned before, possible red flags you need to watch out for.
Be vigilant: On top of all these tips, the most important thing to do is be wary and cautious. We hear about crazy scams all the time and wonder how anyone could fall for them, but the truth is, it's not always so obvious when you're being scammed for your money. If you get calls from unfamiliar numbers or emails from unfamiliar sites, don't be quick to comply and do some research first. Being skeptical in this case is a good trait to have.
Our tools and services can help make staying safe and secure as easy as possible. Contact us at RealTime CPAs to get on board with a financial advisor, learn more about cyber security, and implement newer, safer practices.
---
Bookmark & Share
---
User Comments
Be the first to comment on this post below!