Is it time for you to hire an Associate?
Mon, Nov 16, 2015 at 1:16PM
---
What are you trying to accomplish?
Are your expenses in line?
Do you have enough production?
Can you afford to take home less?
What are you trying to accomplish? This is the first question that needs to be answered. Are you trying to reduce your face time at a location to work at another practice? If so, then you will want to focus on having your expenses in line and not so much on production or take home pay. Are you looking to go part time or back away from clinical work all together? Well then you are going to want to make sure you answer the other questions listed above.

Are your expenses in line? What is your total practice overhead? You may have been able to get away with a loose business management style while you were working (bringing home production money). However, when you stop or reduce YOUR production, all personal revenue will be derived only from the profits of the business. For example, your supplies may have been 3 or 4% more than they should, in the past you may not have noticed. Now that 4% overrun on an $800,000 practice will cost your $32,000 (Side note, it always did cost you that much, and you should have fixed it earlier, but now you will REALLY notice it with a reduced pay out).

Do you have enough production? Here are some general guidelines (not set in stone). Typically, you would like to see inactive patients (the last 18 months) that you can REACTIVATE around 200-250 for each day of planned associate work if you wish for the transition to pay for itself. These new recalls will help to offset the additional associate expenses. Also, most practices with associates are over $800,000 of total practice production, with active patient load exceeding 1,900 (again just a guideline).

Can you afford to take home less? If you do not have the inactive patient base and your overhead is still north of 60% you are going to be taking home less than before taking on the associate you will need to have a plan in place that makes sense for the move. There are many great reasons for bringing on an Associate, our words of caution:
Make sure it is the right time
Have your overhead under control
Have a master plan that is guiding your decision.
OUR PROCESS:
BUY -

BUILD

- GROW - WEALTH
CALL ERIC NOW TO SCHEDULE A
FREE 30 MINUTE CONSULTATION

800.790.5420

Missed past emails? Click below to visit our blog and catch-up on these popular topics!

Copyright *|CURRENT_YEAR|* *|LIST:COMPANY|*, All rights reserved.
*|IFNOT:ARCHIVE_PAGE|* *|LIST:DESCRIPTION|*
Our mailing address is:
*|HTML:LIST_ADDRESS_HTML|* *|END:IF|*
Want to change how you receive these emails?
You can
update your preferences
or
unsubscribe from this list
*|IF:REWARDS|* *|HTML:REWARDS|* *|END:IF|*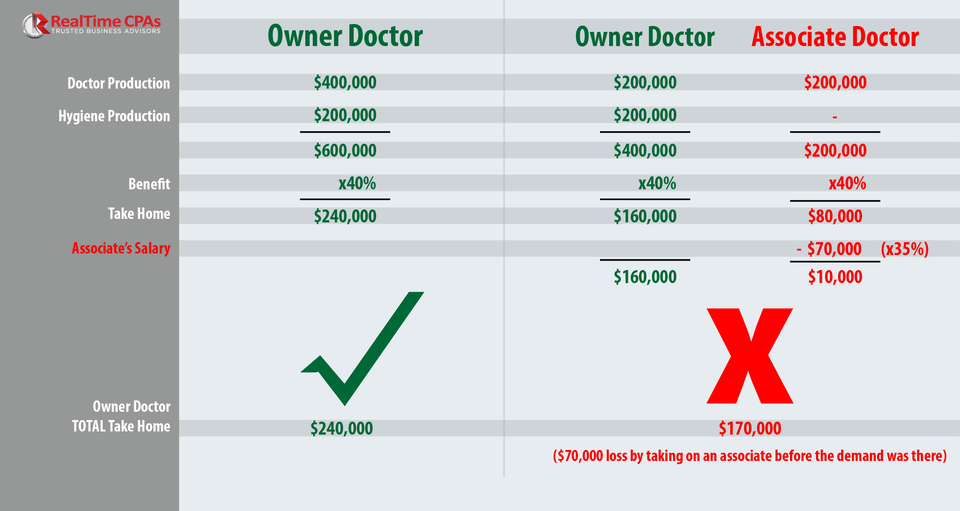 ---
Bookmark & Share
---
User Comments
Be the first to comment on this post below!