Answering Your Dental Practice's Phone
Fri, Apr 10, 2015 at 6:00AM
---
Customers have said it again and again, and as we all know one of the biggest mistakes businesses make has to do with answering the phone. Answering the phone isn't enough to sell your service or keep your customers. The absolute worst thing to happen when you call to schedule an appointment is when you get the automated message, "Please listen carefully as our menu options have changed."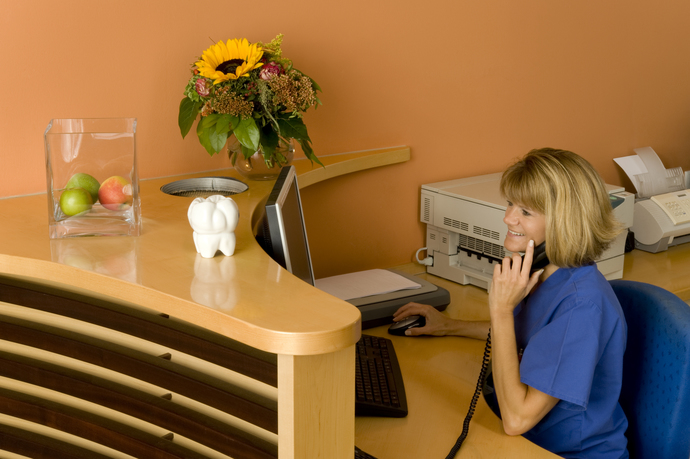 But let's get down to it. A working mother calls your office during her lunch break to schedule her three kids' cleanings on top of her and her husbands. Her lunch break is really the only time she can call to schedule, and when she does she gets a long voice mail that tells her to call back in an hour and a half to schedule. She leaves a voicemail asking for a call back but she never gets a callback. So she waits a few days and still hasn't heard anything so she calls a competitor's practice during her lunch break and schedules all five appointments. Well there goes over $1,000 to your competitor.
Or worse: A businessman calls your office to schedule an appointment to get that crown that the doctor has been telling him for the past year and is put on hold. Well he doesn't have all day to wait around to schedule this appointment, maybe he'll try back tomorrow. But tomorrow comes and there's more business to tend to and tomorrow turns into months down the road when he'll remember about that crown he was supposed to schedule. Missed production on this hold stunt? Almost $1,500.
When you think about not answering the phone during a lunch break you don't think about it being a horrible thing that could rid you of thousands of dollars, but it does. So how can you fix it? Plenty of ways:
Make sure you answer the practices phones a MINIMUM of 45 hours a week.
Add after work hours (think 8am to 6pm) for people to schedule appointments or ask questions.
Check your voicemail the second you see a message in your mailbox.
Have employees take lunch at different times, allowing the phone to be answered at all times.
Always have the appointment schedule up to prevent any hold for your patients.
Follow up with your past due, contact your now due, and send out postcards to your due next month lists. This gives your patients the chance to schedule right there on the phone.
But as we said, answering the phone isn't enough. How you answer the phone is critical. Nothing is worse than being greeted by a mono-toned woman who is so over answering the phones. It's extremely important to answer with a professional greeting in a happy tone. Example? "Hello and thanks for calling ABC Dentistry. My name is James. How may I help you?" This shows that your practice is a well-run and professional business.
Finally, after you've answered the phone with your professional and happy greeting, you need to listen. We can take it back to kindergarten and work on our listening skills if we need to. The biggest reason for conflicts is because one or more people fail to listen. When you actively listen to your customer, you will receive all the facts needed to schedule or answer a question. Listening for the customer's tone is also a must. Does your patient sound rushed? They probably don't have a lot of time, so work with them to get them scheduled or their questions answered in a timely manner so they can get on with their day to day matters. Do they sound mad? Take the time to find out why they are upset and what you can do to help them. This can change their attitude about your practice around and they might even recommend you to their friends or family.
Answering the phones is important. Answer them in a timely manner, answer them after work hours, and answer them professionally. When you do this you will see a better turn around as well as a profit. And who doesn't want to see their patients happy and coming back?
---
Bookmark & Share
---
User Comments
Be the first to comment on this post below!